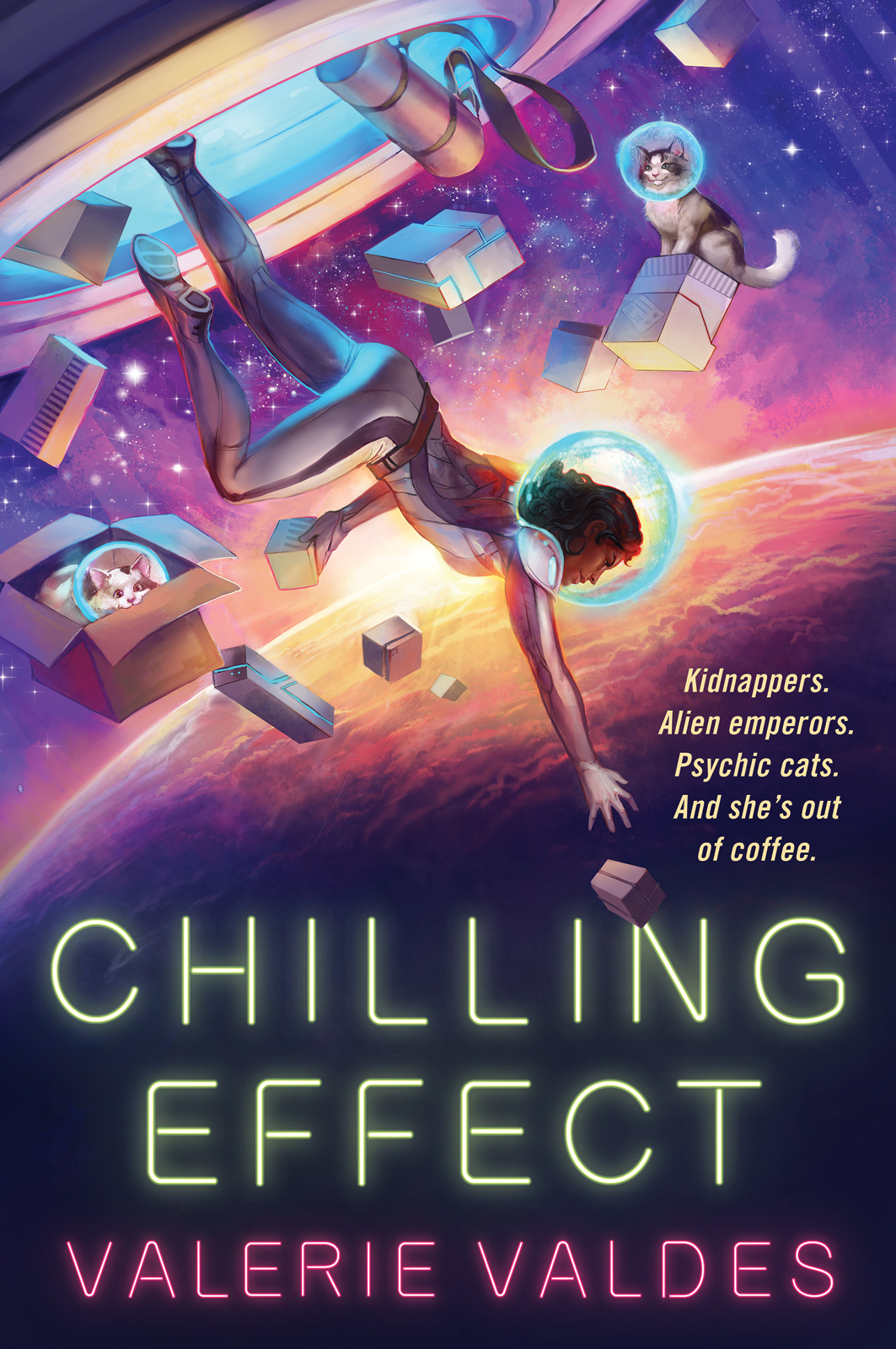 CHILLING EFFECT
Finalist for the 2021 Arthur C. Clarke Award!
2020 International Latino Book Awards Best Novel – Fantasy/Sci-Fi
Captain Eva Innocente and the crew of La Sirena Negra cruise the galaxy delivering small cargo for even smaller profits. When her sister Mari is kidnapped by The Fridge, a shadowy syndicate that holds people hostage in cryostasis, Eva must undergo a series of unpleasant, dangerous missions to pay the ransom.
But Eva may lose her mind before she can raise the money. The ship's hold is full of psychic cats, an amorous fish-faced emperor wants her dead after she rejects his advances, and her sweet engineer is giving her a pesky case of feelings. The worse things get, the more she lies, raising suspicions and testing her loyalty to her found family.
To free her sister, Eva will risk everything: her crew, her ship, and the life she's built on the ashes of her past misdeeds. But when the dominoes start to fall and she finds the real threat is greater than she imagined, she must decide whether to play it cool or burn it all down.
---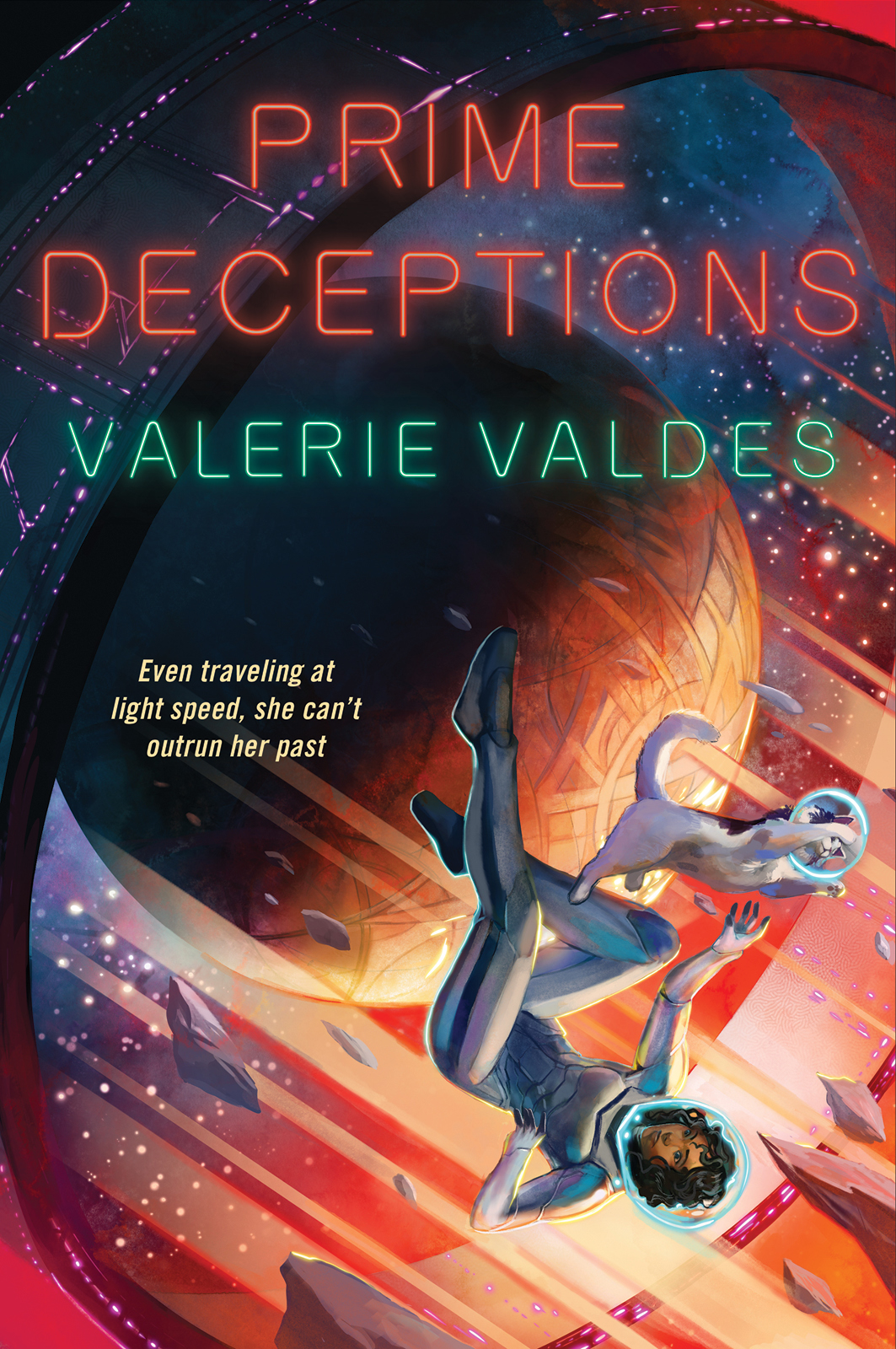 PRIME DECEPTIONS
Captain Eva Innocente and the crew of La Sirena Negra find themselves once again on the fringe of populated space—and at the center of a raging covert war. When Eva's sister asks for help locating a missing scientist, promises of a big paycheck and a noble cause convince Eva to take the job despite lingering trust issues.
With reluctant assistance from her estranged mother, Eva and her crew follow the missing scientist's trail across the universe, from the costume-filled halls of a never-ending convention to a dangerous bot-fighting arena. They ultimately find themselves at the last place Eva wants to see again—Garilia—where she experienced her most shameful and haunting failure.
To complete her mission and get paid, Eva must navigate a paradise embroiled in a rebellion, where massive forests and pristine beaches hide psychic creatures and pervasive surveillance technology. Can she find her quarry while avoiding the oppressive local regime, or will she be doomed to repeat past mistakes when her dark deeds come to light?
---
FAULT TOLERANCE
Nothing wrecks Captain Eva Innocente's vacation plans quite like an anonymous threat to vaporize billions of people. Hundreds of monoliths have suddenly materialized in space, broadcasting the same looped message: surrender or be exterminated. Is the universe being epically spammed?
Surrender to whom? Exterminated when? And how is Eva, commander of a beat-up cargo ship, supposed to prevent it? As panic spreads, a mystery message sends Eva to find answers, in a system that hasn't been explored in all of recorded history.
With the crew of La Sirena Negra, a score of psychic cats, a feline-phobic robot, and a superweapon she has no clue how to use, Eva prepares to battle the unknown. But first, she has to defeat the known: mercenary Tito Santiago, whose idea of a clean fight is a shower before kill time. His mission is to ensure Eva doesn't succeed at hers.
If anything goes wrong, the universe is doomed. But if everything goes according to Eva's plans—wait, when does that ever happen?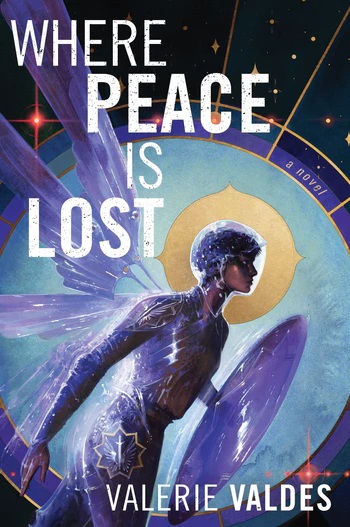 WHERE PEACE IS LOST
Where peace is lost, may we find it.
Five years ago, Kelana Gardavros lost everything in the war against the Pale empire. Now Kel Garda is just another refugee living on the edge of an isolated star system. No one knows she was once a member of an Order whose military arm was disbanded and scattered across the galaxy. And no one knows that if her enemies found her, they might destroy the entire world to get rid of her.
Where peace is broken, may we mend it.
Kel's past intrudes in the form of a long-dormant Pale war machine, suddenly reactivated. If the massive automaton isn't stopped, at best it will carve a swath of devastation that displaces thousands of people. At worst, it will kill every sentient creature on the planet.
Where we go, may peace follow.
When two strangers offer to deactivate the machine for a price, Kel and a young friend agree to serve as their guides. The journey through swamps infested with predators and bandits is bad enough, but can they survive more nefarious dangers along the way? And will Kel's fear of revealing her secrets doom the very people she's trying to protect?
Where we fall, may peace rise.
"If you've not been reading Valerie Valdes, you've been missing out. Valdes is queen of the bold, exciting space romp… Where Peace is Lost is a high-octane story that you will absolutely fly through because you're simply having too much fun to stop."

—Christina Orlando at Tor.com
"This is really good, fun, brilliantly well written, and the characters stay with you."

—Arthur C. Clarke Award Shortlist on Chilling Effect
"Featuring memorable Cuban-descended characters, this engaging space opera debut delivers a story that dances between hilarity and seriousness, with all the joy and frustration psychic cats can bring to the mix."

—Library Journal on Chilling Effect (starred review, Best SF/Fantasy 2019)
"A tremendous good time and an impressive debut."

—Kirkus Reviews on Chilling Effect (starred review)
"Skillful characterization of humans and aliens alike and offbeat worldbuilding details paint a vivid picture of this near-future society… It's as unconventional, tongue-in-cheek, and rip-roaring as fans expect."

Publishers Weekly on Chilling Effect
"Valdes' debut novel follows starship captain Eva Innocente and her crew… The mixture of space adventure and interpersonal relationships comes off as a more light hearted take on the video game Mass Effect and should appeal to anyone looking for its particular brand of light, fun space opera."

—Booklist on Chilling Effect
"Valerie Valdes delivers a hilarious and heartwarming story of a lovably screwed-up found family pinballing through a galaxy of spies and villains. My crops are watered, my skin is clear, my shields are at full strength, and my heart is ready for Eva's next adventure."

—Patrick Weekes, author of Feeder on Chilling Effect
"Imagine if Firefly and Mass Effect got together and had a baby, and that baby were delivered by Guillermo del Toro. This book is that baby. ¡Esto fue un triunfo!"

—Curtis C. Chen, author of the Locus Award finalist Waypoint Kangaroo on Chilling Effect
"Mass Effect meets The Expanse in this energetic space opera adventure. Eva Innocente is unforgettable starship captain and I love every member of her crew-slash-family. This book has enough twists to keep you up way past bedtime, and I can't wait for the sequel."

—Michael R. Underwood, author of Annihilation Aria on Chilling Effect
"There are big, exciting alien battles but also delightful psychic cats who prowl around La Sirena Negra. Valdes hits the perfect comedic tone, giving Eva equal parts snark and heart and filling the ship with fun supporting characters. The quest for the mechs provides lots of great action sequences with SF weaponry on strange planets. A comedic SF adventure that delivers on all three fronts."

—Kirkus Reviews on Fault Tolerance
"Valdes seamlessly incorporates backstory throughout, making this installment friendly to newcomers looking for an adventure reminiscent of Transformers and Voltron. Returning readers will be delighted to reunite with the crew as Eva, her psychic cats, and her found family are pushed to confront ever-greater dangers in the lead-up to a thrilling climax. It's as unconventional, tongue-in-cheek, and rip-roaring as fans expect."

—Publishers Weekly on Fault Tolerance
"Valdes sprinkles humor and sarcasm liberally, bringing levity to the storyline. The plot moves briskly, with enough momentum to keep readers entertained from start to finish. Valdes blends found family, adventure, and humor to end a fun trilogy on a high note."

—New York Journal of Books on Fault Tolerance