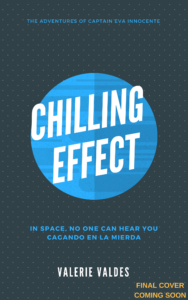 In space, no one can hear you cagando en la mierda.
Captain Eva Innocente and the crew of La Sirena Negra cruise the galaxy delivering small cargo for smaller profits. When her sister Mari is kidnapped by The Fridge, a shadowy agency that holds people hostage in cryostasis, Eva struggles through one unpleasant, dangerous mission after another to pay the ransom debt. To make things worse, she's stuck with a hold full of psychic cats, a fish-faced emperor wants her dead for rejecting his advances, and her ship's sweet engineer is giving her a pesky case of feelings. Qué jodienda.
Final cover coming soon!