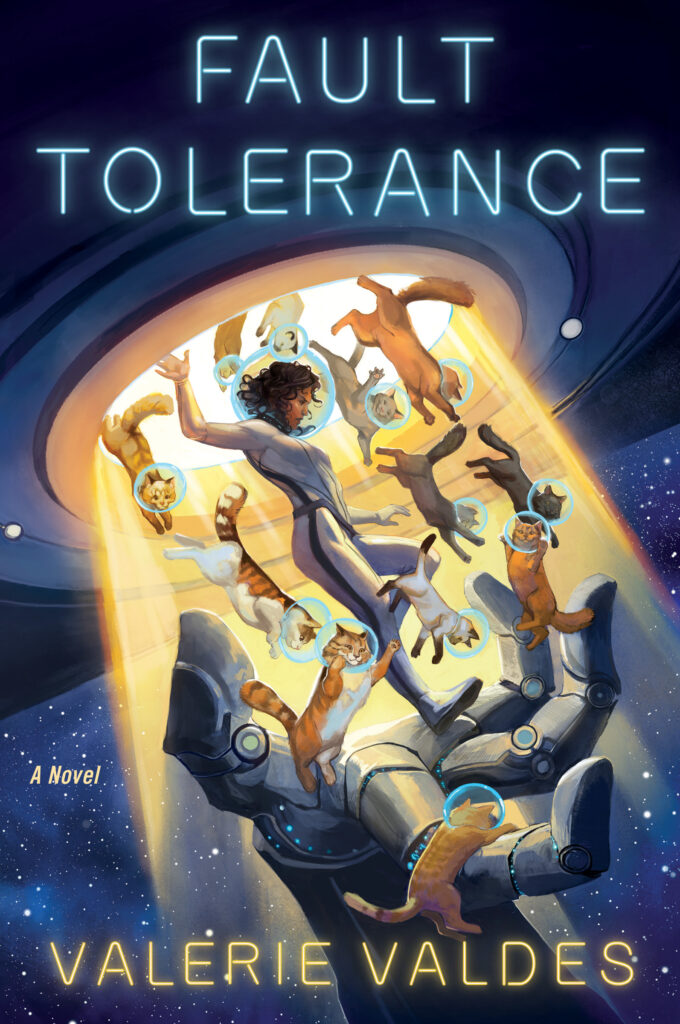 FAULT TOLERANCE (Book 3)
---
Nothing wrecks Captain Eva Innocente's vacation plans quite like an anonymous threat to vaporize billions of people. Hundreds of monoliths have suddenly materialized in space, broadcasting the same looped message: surrender or be exterminated. Is the universe being epically spammed?
Surrender to whom? Exterminated when? And how is Eva, commander of a beat-up cargo ship, supposed to prevent it? As panic spreads, a mystery message sends Eva to find answers, in a system that hasn't been explored in all of recorded history.
With the crew of La Sirena Negra, a score of psychic cats, a feline-phobic robot, and a superweapon she has no clue how to use, Eva prepares to battle the unknown. But first, she has to defeat the known: mercenary Tito Santiago, whose idea of a clean fight is a shower before kill time. His mission is to ensure Eva doesn't succeed at hers.
If anything goes wrong, the universe is doomed. But if everything goes according to Eva's plans—wait, when does that ever happen?
Harper Voyager | Amazon | Barnes and Noble | Apple Books | Books-A-Million | IndieBound | Bookshop | Goodreads
"There are big, exciting alien battles but also delightful psychic cats who prowl around La Sirena Negra. Valdes hits the perfect comedic tone, giving Eva equal parts snark and heart and filling the ship with fun supporting characters. The quest for the mechs provides lots of great action sequences with SF weaponry on strange planets. A comedic SF adventure that delivers on all three fronts."

—Kirkus Reviews
"Valdes seamlessly incorporates backstory throughout, making this installment friendly to newcomers looking for an adventure reminiscent of Transformers and Voltron. Returning readers will be delighted to reunite with the crew as Eva, her psychic cats, and her found family are pushed to confront ever-greater dangers in the lead-up to a thrilling climax. It's as unconventional, tongue-in-cheek, and rip-roaring as fans expect."

—Publishers Weekly
"Valdes sprinkles humor and sarcasm liberally, bringing levity to the storyline. The plot moves briskly, with enough momentum to keep readers entertained from start to finish. Valdes blends found family, adventure, and humor to end a fun trilogy on a high note."

—New York Journal of Books
Content warnings: violence, mental illness, problematic family, mass murder, animal endangerment, sexual situations