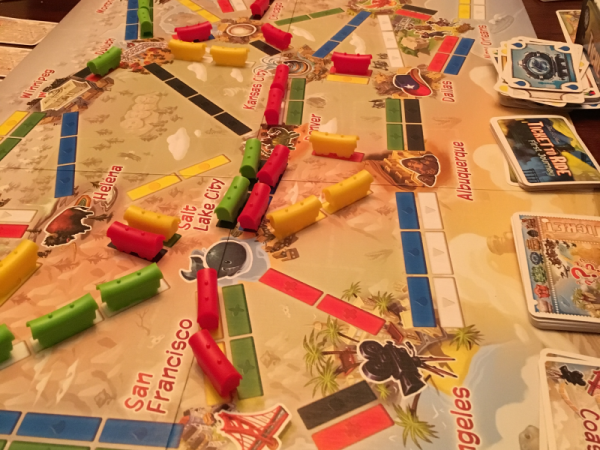 Outlining approach #247.3: character choices.
If you want to get a BioWare fan talking, ask who they romanced in a game. (It's probably more than one character, tbh, we replay a lot.)
But if you want to get them arguing, ask which narrative choices they made in certain games.
Choice is one of the best and easiest tools for showing who your characters are. You wedge them into a situation where they must choose a thing to proceed. You make them sweaty and uncomfortable because making choices is hard!
Their choice tells the reader about their most deeply held beliefs and priorities, about shifting allegiances and agonizing doubts, about all the collected experiences that add up to make a person.
Setting up the choice is the challenge, of course. Some choices can feel artificial: do you save the boyfriend dangling off the edge of the building, or stop the villain from escaping? GASP OH NO.
The best choices are tough to make and have lasting ramifications for the rest of the book. Too easy and who cares? And they don't have to be binary, but too many options will dilute the impact, so don't go overboard.
Also, because you are wise and sneaky, you do not have to make the character pick one of the options you offer. Oh, no. Never forget that you are in charge, dear writer. You control the horizontal and the vertical and also the SECRET FIFTH DIMENSION NO ONE ELSE CAN SEE.
Faced with terrible consequences behind every door, your character may go for Secret Option bust through a wall like the Kool-Aid man. It's a great way to surprise readers, but it will get predictable if you overdo it, so deploy it carefully.
The characters also don't necessarily have to make the choice right away. Setting up a choice, with a deadline that's looming, is a great way to create and maintain tension. Especially if the secondary characters have their own opinions, and there will be fallout among them when the decision is finally made. Big consequences + delayed choice = SUSPENSE.
So, how to do this when outlining? Instead of just plotting out what happens, from one chapter or scene to the next, look for specific points where you can force your character to make a dramatic choice. This can either be a variation on tentpole moments or as part of whatever outline method you normally use. Have at least one Big Choice in a synopsis. If you go chapter by chapter, try to sprinkle choices throughout.
Tentpole moments are big deal things you build the narrative around. They can be plot moments, like when Luke chooses to leave Yoda to save his friends even though his training is incomplete. That choice impacts the rest of the events of that movie and the next one.
Or tentpole choices can be character moments that impact the relationships more than the plot, like when Aladdin chooses to use his final wish to free Genie from the lamp. (It's a resolution to their relationship plot, too, but good plot and character are interwoven SO.)
If you're stuck and need a tool to add more suspense to a flat or linear narrative, look to the choices your characters are making. Are they too easy? Too obvious? Nonexistent? Fix it! Your readers may not remember other plot points, but big, hard choices will stick with them.
This concludes our morning craft ruminations. Let us all go forth and mess with our characters accordingly. Adios, amigos, may your mana bar be full and your potion supply unlimited.