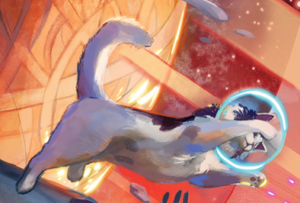 Everyone always quotes the great Terry Pratchett when talking about cats: "In ancient times cats were worshiped as gods; they have not forgotten this." But through the inimitable Granny Weatherwax, he also said, "If cats looked like frogs we'd realize what nasty, cruel little bastards they are. Style. That's what people remember."
Personally, my experience with cats has been more along the lines of derpy snuggle-fiends who like to rub their face on me and cry for snacks. They can also be sneakily empathetic, appearing from their undisclosed cat sleeping locations to comfort me when I'm struggling with big feelings.
Cats have been our allies for ages, and given that they were often employed as pest control on ships, it's reasonable to expect we'll want their companionship and skill set once we start exploring the stars. We'll have to solve the whole artificial gravity problem first, of course; cats always land on their feet, and this makes for a rather tragic scenario when one is floating around with no fixed concept of "down."
With that in mind, I present to you a list of some of the best (so far) fictional cats in outer space–besides mine, of course:
Jones, aka Jonesy (Alien): The pinnacle of space cat. Did his job, accepted occasional affections from the human crew, and valiantly attempted to warn everyone when there was an incursion he couldn't handle from a horrifying xenomorph. Declined to participate in further missions with Ripley, because cats are no fools. A survivor, a legend, and an adorable orange tabby who I would absolutely nuzzle.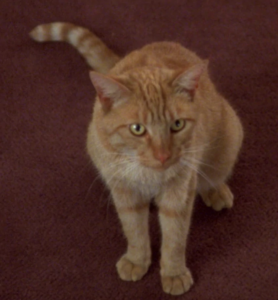 Spot (Star Trek: The Next Generation): Another orange tabby (and sometimes Somali) cat who is more stripey than her name would suggest, Spot was Data's companion, so beloved that he wrote an ode to her. She behaved in standard cat ways: sleeping, playing, and bothering Data while he was trying to work. She even scratched Riker's face once! While other cats are pest-catchers, in the pristine future of Star Trek there are apparently no rats on the ship, so instead Spot gets busy making babies–weirdly, while turned into a lizard. She got better.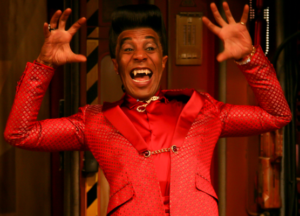 Cat (Red Dwarf): Cat is a descendent of the original pregnant cat smuggled aboard the ship, whose progeny… evolved into felis sapiens. He's a bit of a cat stereotype, and he likes to go around licking people and marking stuff with his signature scent from a spray can. Self-centered and a bit cowardly, but ultimately a loyal crew member. Definitely the most fashionable space cat.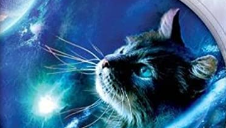 Chessie and Chester (Barque Cats): Like Jones, Chessie is part of a proud tradition of ship cats tasked with chasing down pests, while also alerting humans to other ship problems that may not be obvious. Like Spot, she's part of the proud tradition of making babies, and Chester is one of her kittens. And like the cats in my books, Chester is psychic, though his abilities are more direct telepathy with his human companion than emotional manipulation. Proud, parental, and psychic: three excellent qualities for some adventurous felines.
Honorable mentions:
Goose (Captain Marvel): Goose is not actually a cat; Goose is a flerken, which looks a lot like a cat until, well, it doesn't. Still, Goose is an excellent companion and Infinity Stone guardian, even if he did do Nick Fury dirty.
Lying Cat (Saga): Lying Cat is also, sadly, not an actual cat, despite the name. But this now meme-famous felinoid is still a badass. Who wouldn't want a sidekick with the power to tell when people are prevaricating in your presence?
Jake the Cat (The Cat From Outer Space): His real name is Zunar-J-5/9 Doric-4-7 and he is, once again, not a terran cat. His collar lets him communicate with humans, and he has his own spaceship, so he probably outranks the other not-cats on this list.
Orion (MIB): He's a cat! Sadly, he does not go into space, but he has a galaxy on his collar, so that's kind of the same? Space comes to him.
So there's my list! Who are YOUR favorite space cats?