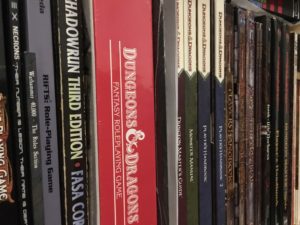 I used to play D&D about a decade ago. Other times, too, but that was the longest-running game I played in, DMed by a friend who came up with some of the most amazing characters and adventures I've had the pleasure of experiencing. Heroes turned villains! Zombie apocalypse caused by our own hubris! Alternate reality versions of ourselves! It was truly epic.
The best part was, we played every Sunday. It was this magical anchor for the rest of the week, a thing I could look forward to and plan for and daydream about. We'd make food and shoot the shit for a little while, then dive in and play for hours, from the afternoon well into the evening, and sometimes later.
For my friend, of course, it was a constant rolling deadline, pulling together the threads of what we had already done and what he was gently nudging us to do while leaving extra thread for whatever we actually did end up doing. Then it was hour after hour of performing, playing different characters and listening to our bickering and tolerating our endless tactical scheming instead of just shouting, "HIT IT with a SWORD already!"
It's not so different from writing a novel, though I'm never in danger of losing my voice from too much talking. Unless you're Moorcock, it can take months or years to draft an entire book. You have these characters and plots floating around in your head, and periodically you sit down and let them bicker and scheme until it's time to do whatever else life demands–eat, sleep, work, parent, etc.
Sometimes the characters hit things with swords, and that is pretty great.
Now that I don't play D&D on Sundays, I write. Every week, I go to the same place with (more or less) the same people, and for a few blissful hours we put our butts in chairs and make words happen. When you don't have external deadlines–when there isn't a room full of your friends waiting for you to make magic every week, same Bat time, same Bat channel–it's easier to let things slide. Having a firm date with myself gives me enough friction to keep the slide under control.
I also like to use NaNoWriMo in November and its brethren Camp NaNoWriMo events in April and July to get work done. Being a part of that community of writers three times a year gives me an additional set of deadlines, even if they're still largely self-imposed. The structure of it helps me focus when it would be easier to procrastinate or let other life needs take priority. And there will always be something vying for the little time I have for myself.
My approach won't work for everyone, but it works for me, for now. My novel comes together one Sunday at a time, just like that D&D game did. And someday, hopefully I can share its magic with everyone else.
Swords definitely included.