When the first email came in about my book's cover art, I was like a dog meeting a new person: excited tail-wagging, but also nervous pee. What if I didn't like it? What if I thought it was wrong for my book? What if I told my anxiety to shut up for a minute and just opened the email instead of freaking out?
What I found was not one, but four thumbnail sketches of possible cover designs. They were all great, and they all featured the main character, which was a nice surprise. Covers these days can be really abstract and symbolic, so seeing Captain Eva Innocente, even only in black and white sketches, was a huge thrill.
Of all the options, one stuck out. They all had cats, because when you write a book with psychic cats, they clearly belong on the cover. Three of the poses were cool action hero looks, which makes sense, because there's a lot of action in the book. But the fourth sketch. Oh, the fourth sketch.
In the fourth sketch, rather than posing dramatically, Eva is falling into space. She's reaching for something—maybe because it fell, maybe because she dropped it, but she sure as hell isn't going to let it get away. Except did she really think this through? What will happen once she grabs it? How will she get back inside or land somewhere safely?
It's not a scene from the book, but it might as well be, because it's exactly the kind of thing Eva would do. Eva is an action hero mostly by accident, even though she has all the requisite training and experience to survive. She's always a little out of her depth, but still swimming. Always refusing to let go of things, even if it gets her in trouble. Living right on the border between stubborn and tenacious, foolish and brave.
I knew immediately that my book would have the perfect cover, the one that told you everything you needed to know about what was inside. And now, finally, I get to share it with the world. I'm still excited, and nervous, because I want you all to love it as much as I do. I promise not to pee, though. You can pee if you want, I'm not here to judge.
Behold, the cover, in all its majesty: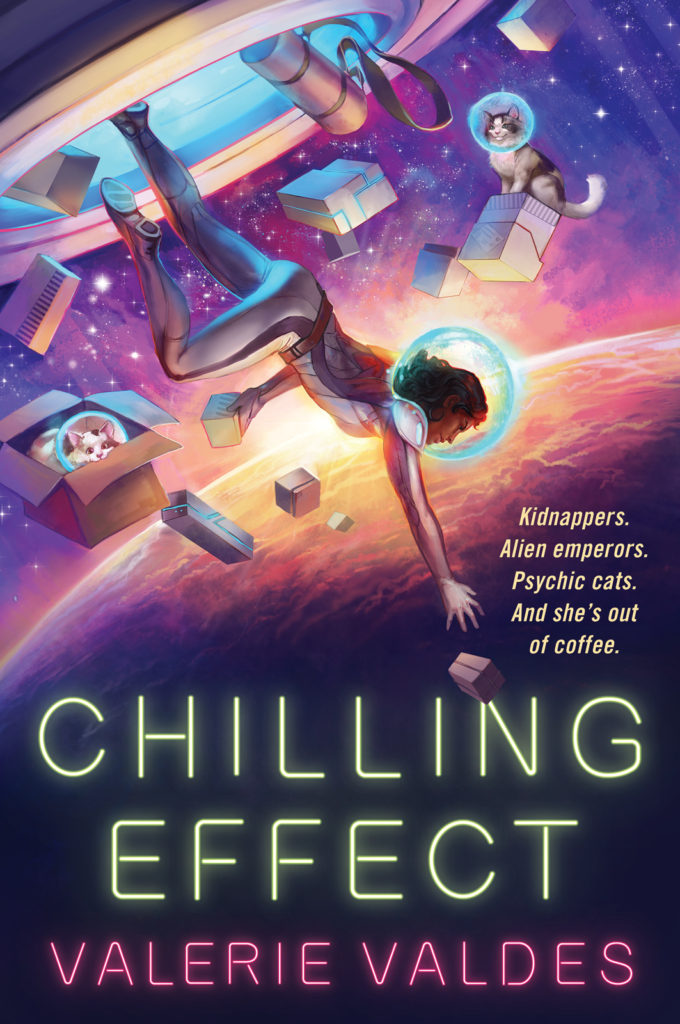 Artwork by the inimitable Julie Dillon; incidentally, having a cover by her was on my bucket list, so I get to cross that one off. Enormous thanks to my editor Tessa Woodward and everyone else at Harper Voyager who made this happen.
Now go forth and pre-order my book!