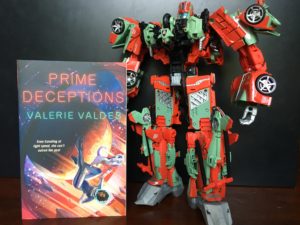 Today is the day! Prime Deceptions is here at last!
I wrote this book mostly hunched over my laptop at SpecialTea Lounge and Panera Bread in Miami, drinking pots of tea or mugs of coffee and eating egg and cheese croissants and cookies. I had quit my day job and thrown myself fully into Writer Life, doing promo for Chilling Effect while trying to make my daily word goal.
It was a beautiful and stressful time and I'll always look back on it fondly, even though I had plenty of intense anxiety. Would I make my deadline? Would I be able to write a book as good as the first one? Would anyone buy either of my books?!
And now here I am, in a whole other state, on the other side of two book birthdays, with a third book in progress and secret new projects also coming together quietly where no one but a few friends can see them. It's pretty surreal, I have to say. But it's also the proverbial dream come true, for a dream I've had since I was a kid, one that waxed and waned over time but never went away.
If you feel so inclined, please do come and celebrate tonight with me and Karen Osborne, whose book Architects of Memory also comes out today! You can find more details in this post, along with the signup link. We have a great list of authors joining us, so it should be extremely fun.
I am so, so grateful every day that I can do this thing I love, and I couldn't do it without everyone who supports me. Thank you, friends, more than I can possibly say. And now, back to work!